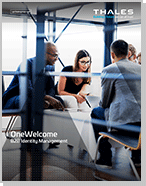 OneWelcome B2B Identity Management - Brochure
Business is complex. The technology that supports it shouldn't be. OneWelcome's B2B CIAM solution simplifies the registration, onboarding, delegation management and access control of guest users from the organisations you work with.
How can OneWelcome's CIAM enforce B2B success?
Our cloud identity platform secures and streamlines B2B relationships. We help companies easily connect and protect their entire B2B ecosystem.
Download