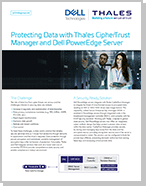 Protecting Data with Thales CipherTrust Manager and Dell PowerEdge Server - Solution Brief
The risks of data loss from cyber threats are serious and the challenges inherent in securing data are multiple:
Increase in regularity and sophistication of data breaches
Data privacy/compliance mandates (e.g. FIPS, HIPAA, GDPR, PCI-DSS, etc.)
Rapid digital transformation
Explosive data growth
Remote and distant workforce
Cost control
To meet these challenges, a data-centric solution that reliably secures sensitive data as it moves from endpoints through networks to applications and the cloud is required. Data protection through proven encryption and centralized, scalable management of encryption keys is the last bastion of protection. Fortunately, Thales and Dell integrate solutions that work at a lower total cost of ownership (TCO) to provide comprehensive data security and enable compliance in today's environment.
Download