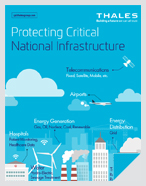 Protecting Critical National Infrastructure - Infographic
National Infrastructure is typically divided into nine categories: communications, emergency services, energy, financial services, food, government, health, transport and water. Assets within these categories are measured against a criticality scale and assigned a stat us based on the severity of impact.
The threat landscape is constantly evolving, with potential harm originating from terrorist attack, rogue states, hackers and organized crime, the implications of the growing threat to Critical National Infrastructure are wide ranging.
Loss or corruption of data would have an obvious negative impact on financial and operational performance for the organization suffering the breach. However, of greater concern would be the potential impact on the security or supply of critical utilities and the broader implications for national security and public safety. Get the infographic for a clear understanding of the cause, consequences and solutions.
Download