Are you prepared for software industry changes?
Leverage the 2022 Trends Report

Automate data discovery, classification and data protection with CipherTrust Intelligent Protection
The intelligent way to reduce risk with integrated discovery,
data classification and data protection


Report 2021
Thales Cloud Security Study
The Challenges of Cloud Data Protection
and Access Management in a Hybrid and Multicloud World
Get the Report Now
THALES CLOUD SECURITY
Your data,
their cloud.
Take control of your security in the cloud.
Thales Positioned as a Leader
in the 2021 IDC MarketScape
Worldwide Advanced Authentication
for Identity Security Report
We provide security for a world powered by
the cloud, data and software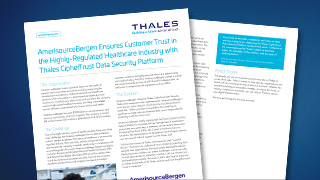 AmerisourceBergen Ensures Customer Trust in the Healthcare Industry with Thales
Resources and Useful Insights

See the Advantage of the Thales Accelerate Partner Network
500+
Technology Integrations