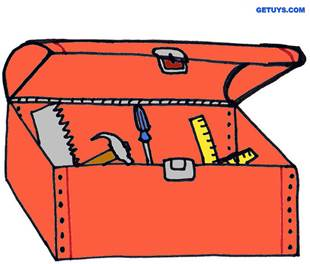 In my blog from September 2014, I wrote "encryption and access controls are your front-line defenses for defending data-at-rest. Given today's threat environment, encrypt everything possible, everywhere possible." While lots of things change in 6 months – the projected World Series Champion, the Super Bowl front-runner, Taylor Swift going from tweeting about dating to tweeting about hacking – this recommendation remains constant.
<ClickToTweet>: IT Security Improvement – A Guide to the CIO's Toolbox from @kessalan #DefenderOfData http://bit.ly/1yz8Hjy
Data-at-rest is susceptible to many forces, not least of which are malicious and non-malicious insiders. As we noted in our recent 2015 Insider Threat Report, the insider threat landscape is becoming more difficult to deal with as the range of miscreant's moves beyond employees and privileged IT staff. It now includes outsiders who have stolen valid user credentials; business partners, suppliers, and contractors with inappropriate access rights; and third-party service providers with excessive admin privileges. Unless properly controlled, all of these groups have the opportunity to reach inside corporate networks and steal unprotected data.

Here are some stats from the report that may interest you:
Globally 89% of respondents felt that their organization was now more at risk from an insider attack; 34% felt very or extremely vulnerable
When asked who posed the biggest internal threat to corporate data, a massive 55% of respondents said privileged users; nine percentage points behind on 46% were contractors and service providers, and then business partners at 43%
In the U.S., 54% of respondents said preventing a data breach is the highest or second highest priority for IT security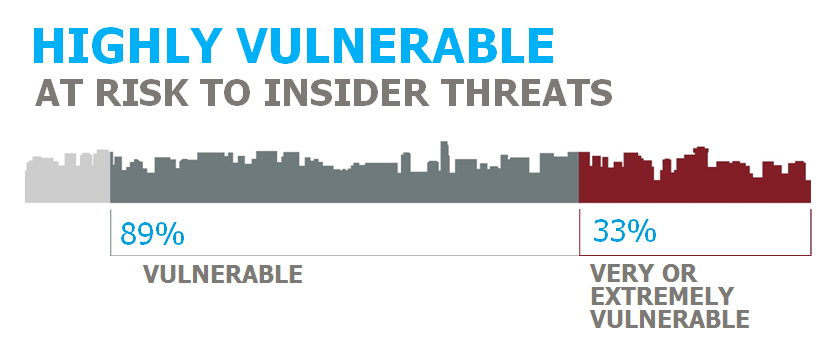 So, what's a smart, savvy CIO to do? Since "run for the hills" isn't the most realistic, proactive or laudable option, I thought it would be helpful to walk through the strategic components of data-at-rest security for the 21st century CIO's toolbox. Let's start with the first: encryption.
Encryption
Here at Vormetric, we offer an array of encryption solutions to help organizations safeguard data-at-rest, wherever it may lie. Determining which encryption solution is the best fit for your organization involves weighing a number of variables, such as:
What type of information do you want to protect?
What threats do you want to protect the information against?
What application and infrastructure changes can you tolerate?
What are your key management expectations?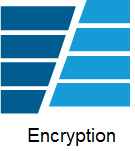 Regarding the key management question: when you implement encryption, it's important to consider the encryption keys. Which employees have access to the decryption keys? Do they need access to those keys? Can your privileged users even see the keys or does the system you are using employ some other control mechanism to assign and serve the keys without allowing them to be created or visible to administrators and privileged users?
As an FYI, Vormetric solutions never expose the encryption keys. They are automatically created and stored under lock and key in our secure data security manager and then applied based on the policy in place for sensitive data.
This discussion ties nicely to our next topic, access control.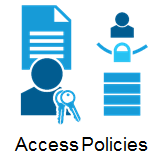 Access Control:
Access control means limiting access to only those whose work requires it, and it typically goes hand-in-hand with encryption solutions.
An intelligent implementation will allow system and application maintenance and operations without exposing data to the privileged users who carry out these tasks. It also meets myriad compliance requirements and stops the threat of legal or physical compromise of the cloud environment. Even if someone walks away with the drive that has your data from the cloud provider, they won't see a thing. And if you control your own keys, legal challenges in the cloud provider's jurisdiction aren't possible without your knowledge and cooperation.
Policy Management
Policy management refers to having a central method of control. Your organization will want a solution that enables straightforward policy management for access to sensitive data.
In most enterprises, roles are linked to definitions within the organization's "directory services" implementation. Usually Microsoft Active Directory, but not always. These is where your domain credentials (password and login or other authentication methods like CAC cards for the military), groups of users (i.e. marketing, accounting, IT), business units and other structures are defined.
Having policy management tools means you can define for individual systems, for domain-based individual users, and for user roles or groups what, where, when and with what application protected data should be accessed. For example, an accounting group member might only be authorized to open a file through SharePoint between 1 and 4 p.m. on Tuesdays. The same type of restrictions can also be put in place for larger groups (such as privileged users, like system administrators.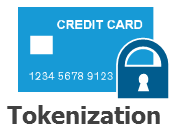 Tokenization
Tokenization is the process of replacing sensitive data with unique identification symbols (a "token") that acts as a proxy for the original information. The original data is kept in a master database that can be hardened, encrypted and keeps track of which token matches which original piece of data. The tokenization approach seeks to minimize the amount of sensitive data a business needs to keep on hand and typically is applied to a single field or column (e.g. credit card numbers, social security numbers).
Although tokenization solutions have been available for some time, our 2015 ITR found that most respondents still gravitate towards database and file encryption products. However, tokenization has valuable compliance-related uses. For example, tokenization helps organizations reduce the scope of audits required under compliance standards like PCI DSS.
Given the potential cost-savings and improvement in business efficiencies that come from tokenization, we highly recommend you consider a solution that offers tokenization capabilities.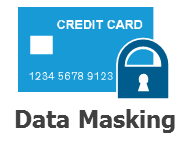 Data Masking
Data masking is pretty much exactly what it sounds like: it's the process of hiding original data with random characters or data. Common reasons for employing data masking are to protect classified data, such as Social Security numbers, credit card numbers and financial information.
For example, when you view your credit card statement online, you often see only the last four digits of the credit card number. The first digits are obfuscated with a character pattern such as XXXX-XXXX-XXXX. This is data masking.
Tokenization and data masking often go hand-in-hand. When shopping around for a solution, we recommend honing in on products that offer the following components:
Streamlined application integration. Solutions employing tokenization at the application layer streamline development by eliminating the complexity required by building role- and identity-based access into every application
Granular, flexible controls. Administrators can establish policies to return an entire field tokenized or dynamically mask parts of a field by policy, without modifying databases. For example, allowing customer service teams to operate by only seeing a few digits of credit cards, or social security number
Non-intrusive implementation. Application changes are minimal or non-existent. Format- preserving tokenization capabilities preserve the original format of the data while shielding sensitive information from view without operational or performance impacts
Cloud and Big Data Protections
The words "cloud" and "big data" have been bandied around quite a bit in the past several years. While you may be tired of hearing them, it doesn't change the fact that the protection of your cloud and big data technologies are hugely integral to a healthy IT security ecosystem.
Cloud Protection
In order to successfully leverage cloud resources while meeting cloud security and cloud compliance requirements, CIO's should ask themselves the following questions:
Is it possible to meet my cloud security compliance requirements when using this cloud service?
How can my organization maintain control of our sensitive data within this cloud offering?
Will use of this cloud service increase my organization's exposure to the soaring costs of data security breaches?
Will this cloud offering help to reduce my APT risk profile and prevent the high profile loss of protected intellectual property and customer information from such security threats?
Does the provider control who can see the data, even in a situation where a government agency uses a subpoena to force the cloud service provider to provide access to data?
To give you an even better idea of how to select appropriate cloud security solutions, we'll point you to one of our favorite blogs, by Vormetric's VP of Cloud, CJ Radford. As CJ notes, the key ingredients are relatively straight forward:
An extensible platform that provides data protection across multiple operating systems and data types (structured, unstructured) that can be managed through a single pane of glass
Encryption leveraging industry standard approved algorithms and centralized key management
Flexibility in deployment models – on-premise, off-premise, public, private or hybrid clouds – maximizing optionality for taking advantage of the cloud
Finally, the ability to restrict access to those personnel (and their IT applications) who only need access to the data – addressing the insider threat within your enterprise and cloud service provider
Big Data
There are a multiple variables that come into play when considering big data solutions, such as 1) data sources (data may come from enterprise resource planning systems, customer relationship management platforms, video files, spreadsheets, and social media feeds); 2) big data frameworks (massive amounts of sensitive data may be managed at any given time and can come in the form of system logs, configuration files, error logs, etc.); and 3) analytics (the most sensitive asset of all, because it makes sense of all the information).
While there are a number of disparate encryption solutions that address big data, most of them only address certain components of big data. Our recommendation is to avoid point approaches, and identify a solution that offers strong controls and comprehensive coverage. To give you an idea of what this solution might look like, please see our illustration below.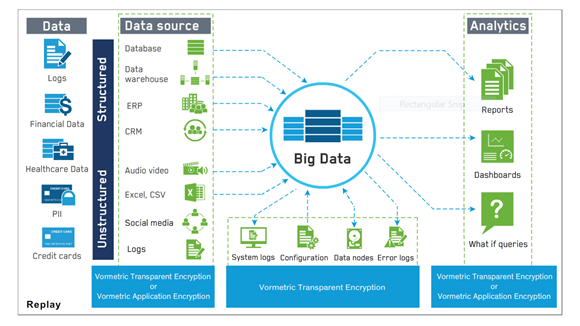 That's All (For Now)
Although this overview isn't exhaustive, we believe it gives the average enterprise CIO a good starting point. The key to successfully protecting your data-at-rest is being smart, informed and aware of the threats around you. Since 2015 has just started, you have months to make the changes necessary – and avoid being on the wrong side of the data when we issue our 2016 Insider Threat Report.