Thales is excited to announce that we have pledged to be a Customer First vendor in the Access Management market for our SafeNet Trusted Access series of products. Our team at Thales takes great pride in this program commitment, as customer feedback continues to be a critical priority, and shapes our products and services.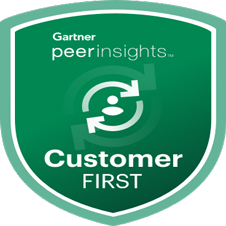 The Gartner Customer First Program demonstrates that we are committed to listening to our customers and we value their feedback. Customer feedback is important not only to us as a vendor in the Access Management market, but also to our customers, both existing and prospective.
97% of buyers feel that user-generated content like consumer reviews is more credible than other types of content.
67% of buyers rank peer reviews as very important when making a purchase decision.
Source:https://www.linkedin.com/pulse/need-data-justify-value-reviews-lauren-harris/
At Thales, we listen to and understand the business needs for a credible, effective, and efficient access management solution that supports all possible use cases. With businesses moving to the cloud at high speed, there is an increasing need to protect digital identities and ensure a strong authentication and authorization mechanism to prevent attacks from happening.
Traditional access management solutions or home-grown platforms are not adequate to address the security challenges of modern enterprises, whether they were born in the cloud or just migrated there. The legacy "castle-and-moat" concept is a relic of the past. Passwords are more a vulnerability and a threat than a security solution. Businesses need streamlined, frictionless, passwordless, multi-factor authentication and access security that can support all business cases: remote working, mobility, APIs, DevOps, ephemeral instances, etc.
"One of the best IAM available in the market. Simplicity in integration with cloud apps on-premise app, network devices."
Technical Consultant at a Service Provider in Asia/Pacific
They need access security to protect their cloud assets, apps and data from adversaries and maintain compliance with an increasingly extensive patchwork of security and privacy regulations, acts, laws and standards. When it comes to the cloud, everyone is an outsider. A strong and effective access management solution, like SafeNet Trusted Access, ensures a robust cloud security posture, regulatory compliance without harming user experience and disrupting productivity.
"The product delivered exactly what we needed and without any added hassle. Implementation was swift and without any delays or issues, so the solution seems to be very well optimized."
Infrastructure Engineer at a Finance company in EMEA
Thales SafeNet Trusted Access helps you protect your data and secure your digital transformation initiatives. Stronger authentication, adopting methods with higher authentication assurance level, requires malicious actors to have better capabilities and expend greater resources to successfully subvert the authentication access. Stronger authentication can effectively reduce the risk of attacks.
"This application allows end-users and administrators to actively use all of its functionalities to securely move through the authentication process per end user. Quick, efficient and functional."
Senior Production Control Analyst at a Healthcare Company in North America
Everyone at Thales is deeply proud to be part of the Customer First program. To learn more about this program, or to read the reviews written about our products by the IT professionals who use them, please see our reviews on Gartner Peer Insights.
To all our customers who submitted reviews, thank you! These honest reviews mold our products and our customer journey, and we always welcome both positive and critical feedback.
If you have a Thales story to share, we encourage you to join the Gartner Peer Insights crowd and weigh in here.
Gartner Peer Insights reviews constitute the subjective opinions of individual end users based on their own experiences and do not represent the views of Gartner or its affiliates.
The Gartner Peer Insights Customer First badge is a trademark and service mark of Gartner, Inc., and/or its affiliates, and is used herein with permission. All rights reserved. The Gartner Peer Insights Customer First program constitutes an organization's commitment to solicit reviews from its customers using programmatic sourcing strategies and best practices. They neither represent the views of, nor constitute an endorsement by, Gartner or its affiliates.