One of the first post-pandemic large-scale, in-person events recently took place in Dubai. The GITEX 2021 conference was met with high attendance along with safety protocols, and it lived up to its usual innovative expectations. If you are unfamiliar GITEX, it is an acronym for Gulf Information Technology Exhibition. What makes it especially interesting is that it is a mix of leading-edge technology, as well as progressive ideas. This included presentations by Ministers and Heads of Government, who shared information about innovation in their countries, YouthX, which brought together young innovators, and the leaders of more than 40 women-led startups.
As the Vice President of Cloud Security and Licensing (CPL) division for the Thales Group, I had the distinct pleasure of attending the conference to share our developments in cloud data protection. Identity and security management is one of the challenges of any organization's cloud migration initiative. It is of vital importance to embed security with the data and control the access to it. The three main concerns for any company working towards digital transformation is understanding where the data is, encrypting that data, and controlling access to that data. This is true in any industry.
As part of the Thales Group's mission, we aim to create technology that supports all industries, including Enterprises of all verticals and government organizations. Given the fact that most companies are using a combination of on premise data centers and multiple cloud providers, it is important to have security that follows the data, wherever that data goes.
du selects Thales to enhance data security and meet regulatory compliance
One of the most significant outcomes of the GITEX conference was the signing of an agreement between du, and Thales. du is the leading telecommunications provider for the United Arab Emirates (UAE), and this new agreement brings more security to all of du's product offerings.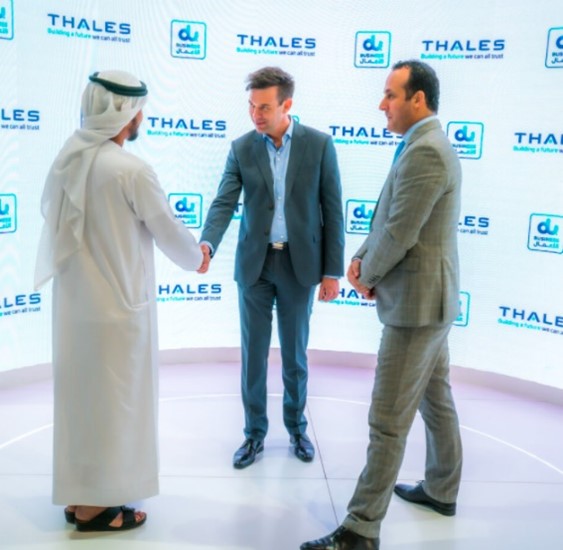 Some of the enhancements include the implementation of the Thales CipherTrust Data Security platform. With Discovery and Classification, sensitive data will be protected across traditional, and big data environments, as well as cloud-based data stores. The Thales CipherTrust Key Management platform will fortify key management processes in both cloud, and enterprise environments. Critical data and digital identity protection will be provided with the addition of Thales Luna hardware security modules (HSMs). Thales Luna is a tamper-resistant, FIPS 140-2 verified appliance.
Great to be back
Overall, the experience at GITEX was brilliant. My colleagues and I were excited to be back amongst the public, and we enjoyed meeting resellers, and had some great conversations with a high quality of new potential customers. Customers were interested in all the portfolios of encryption, MFA, data protection, and access management. Working together with our customers to achieve better security is what we do best, and the added new agreement with du further elevated the entire event.