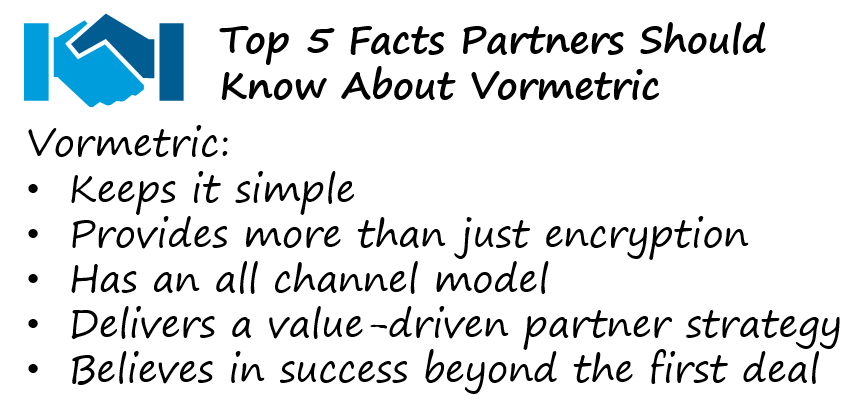 Here at Vormetric, the relationships we share with our channel partners are of the utmost importance and vital to the success of our business. As an all-channel company, the distributors and resellers we work with are the ones we rely on to bring our products to market, and close business every single day. To ensure the success of both Vormetric and our partners, we focus on developing and maintaining strong partner relationships.
In a recent blog post, Vormetric CEO Alan Kessler (@kessalan) dove into why Vormetric channel partners are critical. In a nutshell, it's only through the reach, market expertise and relationships of our channel partners that we are able to we are able to achieve our vision of securing the world's information, with an emphasis on protection of business assets and brand across enterprise's data centers, cloud and big data environments.
ClickToTweet: Top 5 things Partners should know about @Vormetric http://bit.ly/1Kmz860
Here are the five facts all channel partners should know about Vormetric:
We keep it simple – When it comes to the Vormetric Connect Partner Program, the first rule of thumb is to keep it simple. There's no need to overcomplicate things for our partners. With targeted marketing tools, as well as easily accessible technical support and training, we are able to maximize partner success while minimizing overhead.
More than just encryption – It's important to know that Vormetric is more than just an encryption company. The key to Vormetric's success, and ultimately the success of our partners, is the Vormetric Data Security Platform. The many solutions available from our single platform, infrastructure and management environment keep costs low for customers and simplify management. Beyond our signature file and volume encryption and access control solution, we also offer tokenization, application encryption, a cloud encryption gateway, third party key management and Teradata encryption solutions. These additional offerings represent a great way for our partners to extend their relationships with customers by coming back to offer more solutions, while also saving those customers money with our single integrated offering.
The all-channel model – Vormetric is an all-channel company. We made this switch in 2014 and haven't looked back since. In 2013, 33% of the company's sales could be attributed to the channel. In 2014, following our shift to an all-channel model, that number has grown to around 81%. This huge growth goes to show just how much value our channel partners add to our business.
Values-driven partner strategy – Vormetric offers a "best-in-class" partner program built on three core values: trust, openness and commitment. These tenants provide a foundation that mutually invests in our respective companies' goals, and allows us to drive measurable revenue growth and new deal registration.
Trust: Here at Vormetric, our priority is to build a relationship with our partners based on trust and transparency
Openness: We work closely with our partners to continuously strengthen our rapport through openness and communication
Commitment: There's no question about where our commitments lie – we are committed to the success of all of our partners
Success beyond the first deal – One of the reasons the Vormetric Connect Partner Program is so significant is that we care about the success of our partners far beyond the first business deal. We've worked to provide enhanced technical training capabilities through Vormetric University, our educational portal that provides comprehensive support and training on all Vormetric solutions. By enabling partners to fully understand Vormetric's market objectives, we're able to see success far beyond the first deal and foster long-term relationships with our partners.
We've seen significant success with this approach. In fact, I was recently selected as one of CRN's 2015 Channel Chiefs. Though an exciting win, the award really represents the many achievements of the Vormetric Connect Partner Program.
So what's next for Vormetric and our partners? For starters, this year we will be completely revamping the Vormetric Partner Portal. The Portal will be updated to further enhance deal registration as well as be able to view opportunities that we are providing to our partners, allowing our partners to work more closely with our sales team. Partners will also be able to participate in extensive trainings on our product offerings through the Portal. Additionally, we will be offering webinars presented by our sales team to help teach partners to identify new opportunities. With so much momentum, it's clear that there is a lot in store for Vormetric and our partners in 2015.
For more information on the Thales Partner Program, as well as specific Vormetric partner success stories, please visit https://cpl.thalesgroup.com/partners/overview.