リモートワーク、クラウドトランスフォーメーションの加速、デジタルIDとトランザクションの使用拡大がニューノーマルとなっています
あなたのニューノーマルは当社のニューノーマルでもあります
企業は、分散した労働力、加速するクラウドトランスフォーメーション、非接触型決済に対する需要の高まりに加え、容赦ない攻撃やランサムウェア、プロのサイバー犯罪者を含む進化し続ける脅威によって引き起こされる新たな課題に直面し、それらに適応しようとしています。 
ますます動きが速く予測不可能で、チャンスに満ちた世界においてビジネスを保護し、運営に成功するためには、信頼が不可欠です。
当社はユーザーと緊密に協力して次のようなサービスを提供しています。 
リモートワーカー向けのクラウドサービスやアプリへの信頼できる安全なアクセスを拡大
クラウドやオンプレミスの機密データを検出・保護
クラウド移行を保護し、信頼できるクラウド環境を構築
デジタル決済とトランザクションを保護
ニューノーマルにおけるセキュリティ課題に企業はどのように適応しているか
クラウドトランスフォーメーションの加速
もはや企業は、物理的なデータセンターをこれまでと同じように運用することはできません。これにより、運用およびセキュリティテクノロジーのクラウド移行が加速しています。ITチームがデータセンターでの作業に費やす時間が少なくなるため、企業は、データがどこに存在していても、データへの安全なリモートアクセスを提供するシステムを実装する必要があります。タレスは、組織があらゆるクラウド環境で機密データを保護・管理できるよう、信頼できるクラウド環境の構築をサポートします。
データの無秩序な増加に対応
複数のクラウドソリューションに移行し、プロバイダーをホストし、データセンターを最新化すると、データがすぐに制御不能になる可能性があります。鍵管理、暗号化、トークン化といった保護手段を適用するために、企業は、機密データを検出・分類できる必要があります。タレスのCipherTrust データセキュリティ プラットフォームは、データがどこに存在していても、組織がデータを検出、保護、制御できるようサポートします。
従業員のための信頼できるリモートアクセス
エンタープライズVPNアクセスと従来のオンプレミスソリューションは、リモートで作業する多数の担当者に対応する上で十分ではない場合があります。クラウドアクセス管理ソリューションは、アクセスポイントでクラウドアプリへの安全かつ便利なアクセスを可能にし、クラウドを安全に拡張するためのスケーラビリティを提供します。タレスはSafeNet Trusted Accessにより、従業員に安全なリモートアクセスを提供し、クラウドサービスやエンタープライズアプリへの便利で安全なアクセスを可能にします。
使用拡大が進むデジタル決済を保護
顧客の期待と購買行動は変化しています。企業は、非接触型決済を含むデジタル決済インフラストラクチャを保護する必要があります。タレスは、未来型決済保護ソリューションpayShield 10Kにより、企業がデジタル決済とトランザクションを保護できるようサポートします。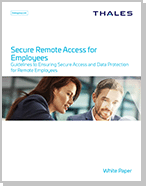 Secure Remote Access for Employees - White Paper
The need to enable a mobile workforce and allow employees, contractor and consultants to work from home or outside the office has never been greater. So the need for secure remote access for employees, has grown exponentially. In today's business environment, constant access...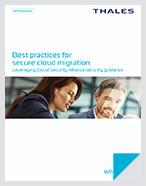 Best Practices For Secure Cloud Migration - White Paper
This white paper is intended to aid readers in forming a cloud security strategy and data migration plan when adopting public cloud services. Security Guidance Version 4.0 from the Cloud Security Alliance offers mature recommendations for those looking to adopt public cloud...