The new normal is remote workforces, accelerated cloud transformation, and more digital identities and transactions
Your new normal is our new normal
Organisations are adapting as they face new challenges driven by distributed workforces, accelerated cloud transformations, the growing demand for contactless payments and an evolving threat landscape which includes relentless attacks, ransomware and professional cybercriminals. 
To protect their businesses and operate successfully in a world that is increasingly fast moving, unpredictable and full of opportunities, trust is essential.
We are working closely with our customers to: 
Scale trusted and secure access to cloud services and apps for remote workers
Discover and protect sensitive data in the cloud and on-premise
Secure cloud migrations and build trusted cloud environments
Protect digital payments and transactions
How organisations are adapting to the security challengesHow organisations are adapting to the security challenges in the new normal
Accelerated cloud transformation
Organisations are no longer able to operate physical data centres in the same way. This has increased the speed at which operations and security technologies are being moved to the cloud. With IT teams spending less time working in data centres, organisations must implement systems that provide secure remote access to their data, wherever it resides. Thales can help your organisation build trusted cloud environments so you can secure and be in control of your sensitive data in any cloud environment.
Learn more about cloud security solutions
Securing data sprawl
When migrating to multiple cloud solutions, hosting providers and modernising their data centres, data can quickly get out of control. Organisations must be able to discover and classify their sensitive data in order to apply protective measures such as key management, encryption and tokenisation. Thales can help your organisation discover, protect and control data wherever it resides with our CipherTrust Data Security Platform.
Trusted remote access for employees
Enterprise VPN access and legacy on-premises solutions can be inadequate for large numbers of personnel working remotely. Cloud access management solutions enable secure and convenient access to cloud apps at the access point, offering scalability to grow securely in the cloud. Thales can help provide secure remote access for workforces with SafeNet Trusted Access, for convenient and secure access to cloud services and enterprise apps.
Learn more about SafeNet Trusted Access
Protecting increased use of digital payments 
Customer expectations and their purchasing behaviours are changing. Organisations must secure their digital payment infrastructure, including contactless payments. Thales can help your organisation secure digital payments and transactions with payShield 10K, the future of payment protection.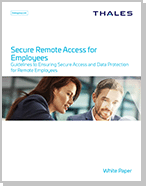 Secure Remote Access for Employees - White Paper
The need to enable a mobile workforce and allow employees, contractor and consultants to work from home or outside the office has never been greater. So the need for secure remote access for employees, has grown exponentially. In today's business environment, constant access...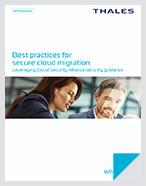 Best Practices For Secure Cloud Migration - White Paper
This white paper is intended to aid readers in forming a cloud security strategy and data migration plan when adopting public cloud services. Security Guidance Version 4.0 from the Cloud Security Alliance offers mature recommendations for those looking to adopt public cloud...