Overcoming manufacturing cybersecurity challenges
Technological innovation is ushering in the fourth industrial revolution (i4.0), blurring the lines between the physical and digital spheres, enabling faster response to demand, improved productivity and better customer satisfaction. Manufacturing and industrial organisations are adopting new platforms and environments at a fast pace, transforming the capabilities of both their information technology (IT) and operational technology (OT) platforms. 
However hacker groups increasingly target weak links in the complex Hybrid IT and OT infrastructure to disrupt operations. Manufacturers and industrial corporations need to be proactive to protect their operations and supply chains from cyber attacks.
Manufacturing cybersecurity statistics
The 2022 Thales Data Threat Report Manufacturing Edition summarises the most important findings gathered from a survey of leaders and practitioners within manufacturing organisations in 17 countries.
How can you overcome manufacturing cybersecurity challenges?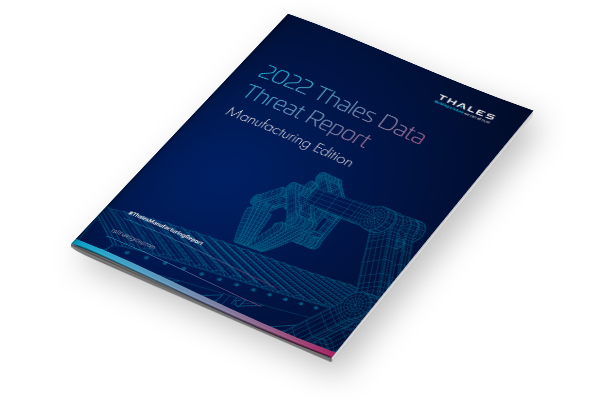 2022 Thales Data Threat Report
Manufacturing Edition
Download the Manufacturing Edition and read about navigating
data security trends and changes in today's business.
 
Get the Report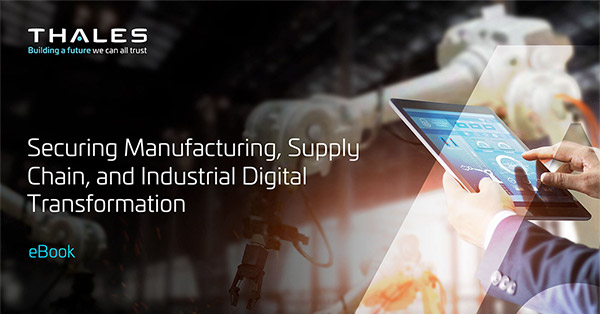 Securing Manufacturing, Supply Chain and Industrial Digital Transformation – eBook
The growth of cyber incidents is challenging the transformation that is essential to the future of manufacturing supply chains and industrial companies. Thales enables manufacturing, supply chain and industrial security while enabling innovation, transformation and increased resiliency.
Read more about securing manufacturing industrial data security

How to improve manufacturing cybersecurity with Thales Accelerate Digital Transformation
Deliver better products by adopting innovations, such as IoT, cloud, and AI faster with a framework for a zero-trust world Increase Resilience and Efficiency
Automate and streamline data protection and access management across hybrid IT and OT infrastructure Reduce Risk and Complexity
Simplify compliance and minimize reputational risk with centralized data security governance
Identity and Access Management (IAM) for manufacturers and industrial organisations
Simplify user access to cloud services, streamline cloud identity management and eliminate password hassles for IT and users, while providing a single pane view of access events across your app estate to ensure that the right user has access to the right application at the right level of trust.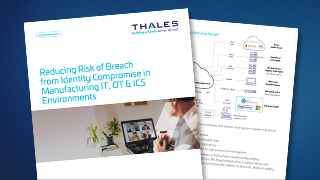 Reducing Risk of Breach from Identity Compromise in Manufacturing IT, OT & ICS Environments
The convergence of IT and OT domains have opened once-siloed OT systems to a new world of threats and risks. Increasingly, corporate networks are inter-connected with Industrial Control Systems, such as SCADA and PLC. Identity and Access Management (IAM) is the security discipline that enables the right entities to access the right resources, either hardware or IT applications, at the right times for the right reasons.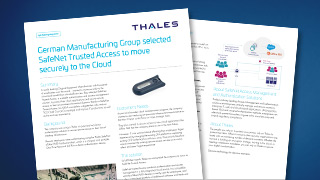 German Manufacturing Group selected SafeNet Trusted Access to move securely to the Cloud
A world leading Original Equipment Manufacturer, with thousands of employees over the world, wanted to move securely to the cloud. Learn how Thales provided a scalable authentication and access management solution to protect their cloud applications and secure remote access to their on premises systems.
Hardware security modules (HSMs) for manufacturing security
Thales hardware security modules (HSMs) enable manufacturers to protect multiple aspects of the manufacturing process. From protecting code signing to ensure software used in manufacturing is authentic and approved, to authenticating digital signatures for processes and IoT devices, HSMs protect the manufacturing process across the supply chain.

Thales's willingness to work with what I needed was a huge selling point and was not matched by other vendors we were evaluating.
Doug Peterson
Senior Field Application Engineer, Identify3D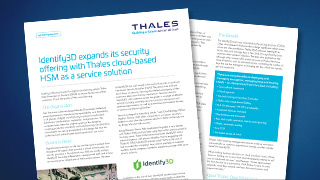 Identify3D Expands Security Offering with Thales Cloud-based HSM as a Service Solution
A leading software provider for digital manufacturing selects Thales Data Protection on Demand (DPoD) to ensure the security of their customers' IP and the quality of their manufacturing.
Simplify compliance across Hybrid IT for manufacturing and industrial enterprises
Accelerate time to compliance by centralising data discovery, classification, data protection and unprecedented granular access controls with centralised key management – all on a single platform. Apply policy-based data and access security based on specific regulation requirements such as the Executive Order to Improve the Nation's Cybersecurity, the European Union's Cybersecurity Act, GDPR, ISO 27001, SCADA and more.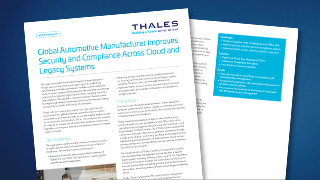 Global Automotive Manufacturer Improves Security and Compliance Across Cloud and Legacy Systems
Faced with an increasingly complex and risky cyber security environment, this global automobile manufacturer was able to improve security, reduce the risk of data breaches across the enterprise, and enhance its overall compliance profile with Thales.
Protect sensitive data in motion across manufacturing and industrial IT with high speed encryption
Protect data in motion with solutions that provide customers with a single platform to encrypt everywhere – from network traffic between data centres and the headquarters to backup and disaster recovery sites, whether on premises or in the cloud.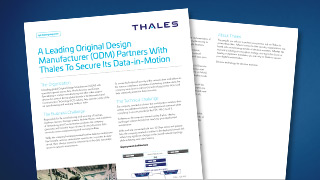 A Leading Original Design Manufacturer (ODM) Partners With Thales To Secure Its Data-in-Motion
A leading global ODM generates and transmits volumes of critical business data with its various manufacturing and servicing facilities in Asia, North America, and Europe. Learn how Thales provided trusted security by deploying network encryptors to protect sensitive data across its entire network.