Cloud Protection & Licencing Professional Services
Thales CPL Professional Services help customers get the most out of their security solutions. Our experts are dedicated professionals with complementary skills and knowledge on Access Management and Encryption solutions. From project scope definition to delivery to customer handover, our wide range of services help you turn each project into a success.
Trusted globally by many industries
We have successfully delivered many projects around the world for various businesses in banking, insurance, finance, government, manufacturing, technology, etc. Today more than 1,000 customers trust us.
Our consultants implement Access Management & Encryption solutions within the customer's environment, for both on premise or cloud deployments.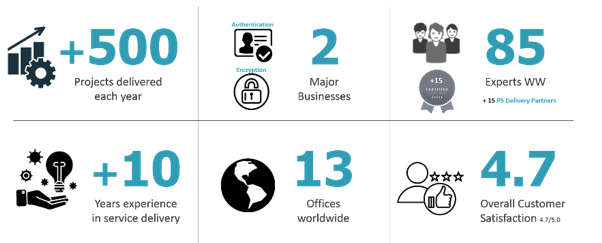 Maximise the value of your security investment
In addition to the world's most comprehensive Access Management & Encryption offerings, our Professional Services team helps you maximise the value of your security solution investment.
Whether you struggle with an existing implementation or with the definition of a new strategy, our consultants are specialised in:
Transforming your vision into clear business objectives
Assessing the state of your current infrastructure
Defining a clear list of requirements for achieving your security goals
Thales CPL Professional Services supports you with:
Customer Benefits
We are fully committed to providing you:
Real partnership for a smooth deployment
Valuable technical expertise & consulting in security
An end-to-end approach for a successful solution integration
Best practise implementation
Global regulatory compliance
Best-in-class quality in services with time-to-market and real-time efficiency
As your satisfaction matters, our top priority is to provide our best in solution and service delivery.
Should you need more information please contact your Sales Representative.