Maximize the potential of your software with licensing solutions that do more.
To learn why Thales Sentinel is the leading global partner for software licensing, delivery and protection, please go to our Software Monetization main page.
Welcome to the Thales Sentinel Drivers and Downloads page.
Please click on the relevant product links below to access the downloads you need.
If you are looking for alternative products or need more information, please visit our support portal.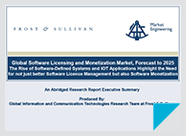 Frost & Sullivan Software Licensing Trends Through 2025 - Report
Why does Sentinel dominate the software licensing world? "The need to optimize…through Software Licensing & Monetization solutions has become business critical." - Frost & Sullivan Trends and Predictions for the Software Licensing Market Through 2025 Download the...