Learn the basics of software licensing: Protect the value of your software and make it work for you. Then find out how you can increase efficiency, revenue, insights and customer satisfaction with your business.
Software License Server
Modernize Enterprise IT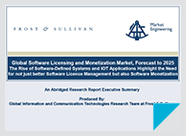 Frost & Sullivan Software Licensing Trends Through 2025 - Report
Why does Sentinel dominate the software licensing world? "The need to optimize…through Software Licensing & Monetization solutions has become business critical." - Frost & Sullivan Trends and Predictions for the Software Licensing Market Through 2025 Download the...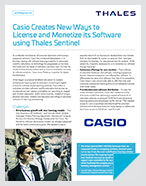 Create New Revenues with Flexible Licensing Options - Casio Case Study
Casio Creates New Ways to License and Monetize its Software using Thales Sentinel A worldwide manufacturer of consumer electronics and business equipment solutions, Casio has introduced digitalization in its business, starting with software licensing model for its renowned...