MobilePASS offers the security of strong two-factor authentication on your iPhone or BlackBerry
Turn your mobile phone into an instant authentication device with MobilePASS, an innovation in software authentication that allows you to generate one-time passcodes instantly on your iPhone or BlackBerry, enabling secure remote access to corporate and web-based applications. MobilePASS combines the security of strong two-factor authentication with the convenience, simplicity and ease of use of One-Time Passcodes.
Download MobilePASS software clients
Note that MobilePASS clients for iPhone, and Windows Desktop support an enhanced feature set which is available when MobilePASS is managed by SafeNet Trusted Access. To find out more about how you can leverage these features, contact Thales Customer Support.
Learn more about SafeNet MobilePASS

MobilePASS provides powerful identity protection and convenient access control for:
VPNs
SaaS applications
Terminal server
Citrix applications
Outlook Web access
Customer-facing online services such as e-banking sites, eLearning education portals & healthcare record sites

MobilePASS features:
Configurable token with policy-based activation
Time-sync and event-based OTP
Challenge response
Configurable PIN and token policy
Multi-token support – use the same token to access several applications
Easy to manage deployment model
Automatic one-step installation and activation – no need to activate on an external Web portal
Policy-based activation determines token configuration
BES one-click installation and activation
Enhanced security
Highly secure standards-based activation
Dynamic re-seeding means organisations control their own seed data
Supported platform
MobilePASS is managed by SafeNet Trusted Access.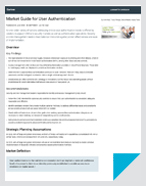 Gartner's Market Guide for User Authentication - Report
With a variety of user authentication solutions offered in IAM and security markets, leading analyst firm Gartner provides practical guidance on choosing a multi-factor authentication (MFA) platform that's right for you. According to Gartner's latest market guide, when...