Episode 4: Time for the crystal ball – What to expect in 2021
In this episode we are looking ahead at what we can expect in 2021 and reviewing how 2020's remote working, separation from family and teams have changed us. Have a listen to some of the interesting insights from Neira's guests, Troels Oerting, Chairman of the Board of the World Economic Forum's Centre for Cybersecurity (C4C) and Ashvin Kamaraju, CTO and Vice President Engineering at Thales Cloud Protection & Licensing.
---

Our Host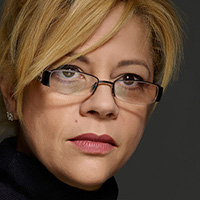 Neira Jones, Business Advisor
Neira advises organisations of all sizes on payments, fintech, regtech, cybercrime, information security, regulations (e.g. PSD2, GDPR, AML) & digital innovation. With more than 20 years in financial services & technology, she believes in change through innovation & partnerships and always strives to demystify the hype surrounding current issues. She enjoys her work as a strategic board advisor and non-executive director. She also provides coaching, training/e-learning, speaking, payment security expert witness services, and helps with M&As cybersecurity due diligence. She likes engaging on social media & regularly addresses global audiences in person or virtually.
She is the 1st Advisory Committee member for PCI-Pal, a global leader in secure payments & chairs the Advisory Board for mobile innovator Ensygnia. She is proud to be an Ambassador for the Emerging Payments Association and a friend of the Global Cyber Alliance. You'll find her on the Refinitiv list of Top 100 Influencers in Financial Services, the Planet Compliance Top 50 RegTech Influencers, the SC Magazine list of the UK's 50 Most Influential Women in Cyber-Security 2019, the Cybersecurity Ventures Women Know Cyber 2019 (100 Fascinating Women Fighting Cybercrime), the Jax Finance Top 20 Social Influencers in Fintech 2017, the City AM Powerful Women in the City List, the Richtopia Top 100 Most Influential People in Fintech. Tripwire nominated her "Top Influencer in Security To Follow on Twitter" in January 2015, CEOWorld Magazine nominated her Top Chief Security Officer to Follow on Twitter in April 2014, she is the Merchant Payments Ecosystem Acquiring Personality of the Year 2013, the SC Magazine Information Security Person of the Year 2012 and is an InfoSecurity Europe Hall of Fame alumni. She was voted to the Top 10 Most Influential People in Information Security by SC Magazine & ISC2 in 2010 & has served on the PCI SSC Board of Advisors for 4 years. She is a British Computer Society Fellow.
Neira has previously worked for Barclaycard, Santander, Abbey National, Oracle Corp. and Unisys. Her clients span industry sectors, including financial services, fintech, retail, legal, consulting, information security & technology.
She loves technology and cars...
---

Our Guest Speakers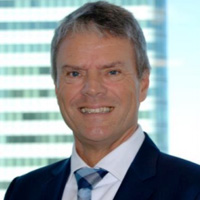 Troels Oerting, Chairman of the Board of the World Economic Forum's Centre for Cybersecurity (C4C)
Troels Oerting is presently the first head and Chair of the Global Centre for Cybersecurity (C4C) established by World Economic Forum in 2018 to mitigate the global challenges to security, privacy and integrity imposed by the Digital Transformation and the 4th Industrial Revolution by engaging and curate global stakeholders in a world-wide platform for prevention, protection and prosecution. He has been working in cyber/security 'first line' for the last 38 years and has held a number of significant posts both nationally and international, and has an extensive network covering both public and private institutions.
Before joining World Economic Forum Troels Oerting worked as Group Chief Information Security Officer (CISO) and Group Chief Security Officer (CSO) with end to end responsibility of all security in Barclays Group, responsible for more than 3000 security experts world-wide protecting the banks 50 million customers and 140.000 employees in 51 countries.
Previously Troels also held the position as the first Director of the European Cybercrime Centre (EC3), an EU wide centre located in EUROPOL with the task to assist Law Enforcement Agencies in protecting 500 million citizens in the 28 EU Member States from cybercrime or loss of privacy.
As an expert in cyber security Troels has constantly been looking for new legislative, technical or cooperation opportunities to efficiently protect privacy and security for users of the Internet. He has been pioneering new methodologies to prevent crime in Cyberspace and protect innocent users from losing their digital identity, assets or privacy online and enjoys a robust professional network covering both US, EU, China, Russia, Middle East and Africa. He is a highly sought presenter and moderator and has participated in all relevant conferences globally on cyber.
He is and has been Cyber advisor for the EU Commission and Parliament and been a permanent delegate in many governance organisations i.e. INTERPOL, ICANN, ITU and The Council of Europe and used by several governments and organisations as advisor in cyber related questions, amongst those the establishment of the GDPR.
He also established a vast global Outreach programme including law enforcement, NGO's, key tech companies and industry who together with Academic Research Institutes established a multifaceted global coalition against cybercriminal syndicates and networks, with the aim to enhance online security without harming privacy and to invent new ways of protecting users of the Internet.
Before joining Europol as Director for the European Cybercrime Centre (EC3) Troels Oerting held the position as Assistant Director for Europol Organised Crime department as well as the Counter Terrorist Department and he also held positions as Director of Operation in the Danish Security Intelligence Service and Director for the Danish Serious Organised Crime Agency (SOCA).
Troels is presently Chairman of the Advisory Board to the DK Board Leadership Society Centre for Cyber Competences, and Chair at Bullwall A/S, Board member at several International companies and extern lecturer on CBS Executive and Board Education in Cybersecurity and finalising the establishment of a Cyber Risk Simulation Center for Board Members in DK and abroad.
---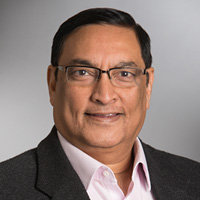 Ashvin Kamaraju, CTO and Vice President Engineering at Thales Cloud Protection & Licensing.
Ashvin is currently the CTO and Vice President Engineering at Thales where he drives the technology strategy for Thales Cloud Protection & Licensing, leading a global organisation of researchers and technologists that develop the strategic vision for the company's portfolio of industry-leading data protection products and services.
Previously Ashvin served as Vice President Global Engineering at Thales following its acquisition of Vormetric. He lead a geographically distributed engineering organisation that developed a broad portfolio of leading edge data security products which met rigorous security standards and were designed for deployment in the enterprise, private and public clouds.
Ashvin is an experienced leader with a proven track record, having more than 25 years of software development experience with domain experience in storage management, operating systems, big data security, encryption and key management.
Prior to joining Vormetric, Ashvin spent four years as General Manager and Vice President of Engineering at Symantec Corporation, where he led the development of a portfolio of enterprise storage software products. Earlier in his career Ashvin worked at Sun Microsystems as a member of technical staff and engineering manager where he contributed to the Solaris operating system software for SPARCstations and let the development efforts for file and proxy cache servers. He has a MSCE and a master's in mathematics and computer science from the University of Cincinnati.

www.linkedin.com/in/ashvinkamaraju/


twitter.com/AshvinKamaraju
---

About this Episode
In the ancient times, it was the Oracle who predicted the future and advised the Greek kings, like Odysseus, on what to do (although sometimes her advice was vague!). I don't claim to be an Oracle, neither do I have a magical crystal ball to foresee the future, but based on experience and data, businesses can plan ahead.
In the fourth Thales Security Sessions podcast, Neira Jones asked me to join Troels Oerting, Chairman of the Board of the World Economic Forum's Centre for Cybersecurity (C4C) and discuss what we can expect in 2021 by reviewing 2020.
Everyone can agree that 2020 was a disruptive year. When we were making predictions for that year, none could envision the challenges that we faced. All of a sudden, we were asked to work remotely. Although businesses had already embarked on their digital transformation journey, it was the pandemic that really accelerated that transition, creating new opportunities and new challenges.
How can you run everything online while securing your data and maintaining trust to and with your customers? How can you ensure availability, affordability and convenience of your solutions and at the same time balance with security and safety?
Increased threat surface and the need to comply with a growing number of privacy regulations and sovereignty jurisdictions puts additional pressure on all businesses who will also have to tackle another problem: talent shortage. How can we solve this problem? While educating people seems like the obvious answer to the question, it is "work from anywhere" that presents a more viable opportunity, since businesses can recruit talent from across the world without facing the distance constraints.
As technology evolves, we should expect to see some new trends emerge. Is that going to be deception technology to track, trap and expose attackers? And how will AI and 5G networks change the game? The future will bring many changes and we should expect that everything will be connected, sensed, processed and stored.
However, here lies the biggest challenge: how can we ensure the integrity of digital data? We have focused our efforts on confidentiality and availability and not too much on preserving integrity. The Cambridge Analytica scandal has demonstrated a real threat – hacking opinions.
As Troels said, we are here "not to promote fear, but to protect hope." Businesses should keep up with strong cybersecurity hygiene, enforce security and privacy processes and invest in their people to become more secure and safe against cyber threats.
2021 is going to be another challenging, yet interesting year. What a great way to reflect and kickstart this year by listening to our Thales Security Sessions podcast, Episode 4: Time for the crystal ball – What to expect in 2021. Enjoy it!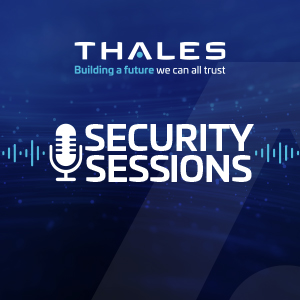 Security Sessions Podcast
For the latest on cloud & data security
This podcast series explores the technologies, people, and processes behind information security. We'll delve into topics like data security, remote access and digital transformation, as well as the people and technology that make it all work behind the scenes. We'll speak to Thales and industry experts to bring you fresh perspectives on how to navigate the world of cloud security.
We invite you to subscribe to Security Sessions, a podcast bringing you insights from industry experts on the latest cloud & data security news and trends.
Listen to Previous Podcasts
Series 3 Podcasts
Episode 1: The Rise of the Sovereign Cloud
An increasing number of countries are adopting laws and regulations designed to protect the privacy of citizens by defining how data can be securely collected, stored, and used. As a result, many businesses and organizations are evaluating how to comply with the changing geo-political landscape, including the increased concern about the sovereignty of data, workloads and infrastructure in the cloud. This rise of "digital sovereignty" is the result of governments becoming concerned about their dependence (and the dependence of national businesses) on foreign cloud infrastructure providers.
In this episode, host Steve Prentice is joined by Nelly Porter, Head of Product, Google Cloud Confidential Computing, and Todd Moore, Vice President of Encryption Products at Thales, to discuss the forces driving Digital Sovereignty, and to discuss how Data Sovereignty, Operational Sovereignty and Software Sovereignty are the key foundational elements for building security frameworks that can achieve Digital Sovereignty.
Episode 2: The Eternal Sunshine of the Criminal Mind
When you are a hammer, everything looks like a nail. Cybercriminals continue to succeed in discovering flaws and weaknesses in every connected technology. From zero days to SQL injection, what most people see as technology designed to perform a specific task, they see as a door, a window, or even a simple crack through which they can gain access. 

On this episode, host Steve Prentice talks with Amanda Widdowson, Head of Human Factors Capability at Thales UK, and Freaky Clown, the co-CEO and Co-Founder, Head of Ethical Hacking at Cygenta about what makes the criminal mind so good at thinking outside the box, and more importantly, how we can develop those skills inside security professionals, senior managers, and everyday people.
Episode 3: The Vendor of My Vendor: The Importance of Finding the Right Relationships for Cloud
Cloud continues to evolve, but so too do the human organizations that depend on it. Companies expand into new territories, they buy other companies, or get bought, and the vendors with whom they drew up contracts also change, evolve, and farm out work. It's a landscape of shifting sands where you can never be quite sure of who you're really dealing with. Host Steve Prentice invites Sean Heide from Cloud Security Alliance and Chris Holland, VP Cloud Services Thales, to weigh in.